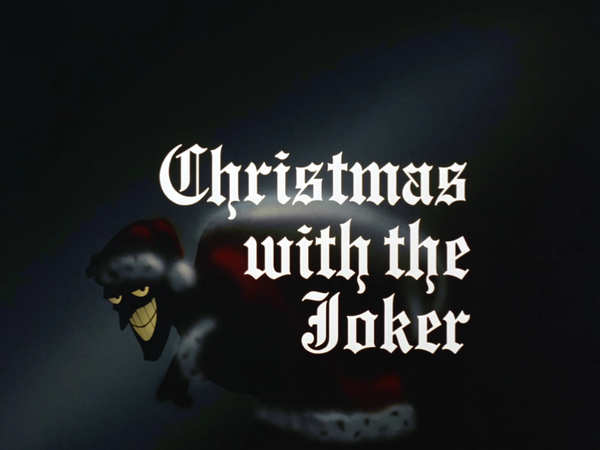 Christmas With The Joker, the second produced episode of Batman: TAS, aired on November 13, 1992 with a script by Eddie Gorodetsky and directed by Kent Butterworth.
After escaping Arkham Asylum on Christmas Eve, The Joker takes over Gotham's airwaves and terrorizes the city for a crime. He challenges Batman and Robin to find his hidden TV studio and free his hostages — Commissioner Gordon, Detective Bullock and Summer Gleeson — before midnight.
This was the first produced episode of the series to include The Joker, played by the always excellent Mark Hamill, although six episodes had aired prior to this with the Joker in it.
And really, the fact that this is a Joker centered episode, that's more than enough to highly recommend this episode. Right from the beginning, they get you right off the bat:
I mean, that alone already sucks you in and the episode just gets better and better and better as it continues on.
Once again, the animation is great and the voice work is top-notch, Conroy & Hamill prove why they are the definitive Batman & Joker, Loren Lester is very good as Robin. The writing is top notch, the comedy works really well, and it's just such a fun, fun episode to watch. You can tell they were having a ball putting this one together.
Let alone the fact that they actually made a really good Christmas episode out of Batman of all things but Christmas With The Joker not only does what the series does best, great animation, great voice work, and great action but they combine that great action with a ton of great comedy centering around the Joker. At Christmastime, this is one episode that is highly recommended to watch around the holiday season.