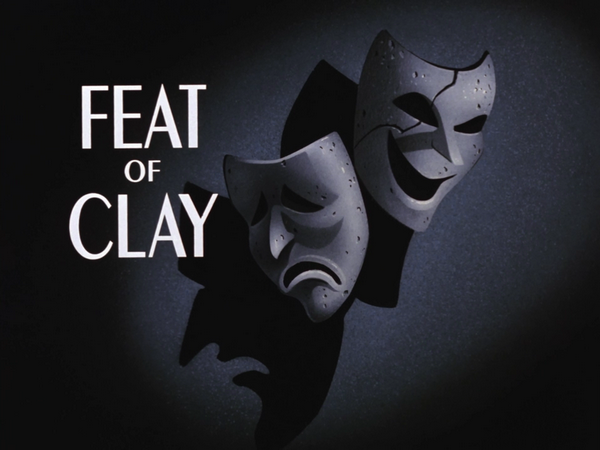 Feat Of Clay, Part 2, was broadcasted on September 9, 1992 with a script by Marv Wolfman & Michael Reaves and a story by Wolfman and directed by Kevin Alteri.
Bruce Wayne is released from prison on bail. Hagen, as it turns out, survived the murder attempt on him, but at a high cost: the formula entered his body and soaked every single one of his cells, turning him into a shape-shifting mutant. With his newfound powers, Hagen, now calling himself Clayface, decides to take his revenge on Daggett and his men.
Going back to what I said before, the second part of Feat Of Clay is not only the far superior part of this storyline but it also has some of the most impressive animation the show has done.
Like I said, Clayface is well voiced by Ron Perlman and they do a good job of trying to give Hagen a backstory of why he can't go back to his old ways. Not only that but Ed Asner as Roland Daggett does a pretty god job with the role he has.
The last 10 minutes of the episode alone is what makes this episode so damn good, the scene where Clayface confronts Daggett is so brilliantly executed and it's one of the few times you actually want to see the villain get his revenge for what has happened to him:
And of course, this leads to the true climax of the episode and the reason why TMS was brought in to do the animation for this scene that I'm about to show you, there is a reason why TMS did this part and I'll talk about that after you watch the clip:
I mean, my god, this is without a doubt the best animated sequence the show has ever done and like I said, there's a reason why TMS was brought in to do the animation for this episode. Does the transformation scenes of Hagen remind you of another TMS project from around this time period, a little film called Akira:
I mean, you can definitely see some of the inspiration from the final scenes in Akira used in that sequence at the end of this episode and it's some of the most gorgeous animation to come out of this show. In fact, it would not be the last time the series would have scenes inspired by Akira but we'll talk more about those when we get to those ones.
In fact, in a sort of way, Tetsuo and Hagen are pretty much in the same predicament, they had these horrible accidents happen to them, they got more powerful, and their powers became too much for them to handle. The only difference is that Tetsuo is pretty much living in an alternate universe while Clayface essentially pulled off a fake death as in the final seconds of the episode, he's very much alive.
Feat Of Clay, Part 2 is definitely the strongest of the two part storyline, showcasing more of Hagen's backstory and how he became Clayface and why he makes a strong case for the things he does in the episode, the animation is spectacular with a lot of influence from Akira and some of the best the show has ever done, the voice work is great, this is such a great, great episode, definitely one you should definitely check out.