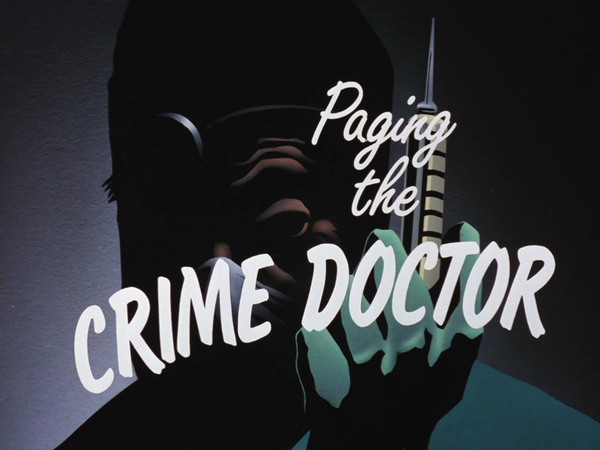 Paging The Crime Doctor was first broadcasted on September 17, 1993 with a script by Randy Rogel & Mitch Pasko from a story by Mike W. Barr & Laren Bright and directed by Frank Paur.
Dr. Matthew Thorne (played by Joseph Campanella), losing his medical license and forced into becoming the crime doctor by his younger brother, crime boss Rupert Thorne, must perform delicate surgery on Rupert. He can't do it alone, and kidnaps Dr. Leslie Thompkins to assist. Batman discovers Leslie's disappearance, and rushes to track her down – and has an additional interest in Matthew, because he was a medical school classmate of Bruce Wayne's father Thomas.
This episode does have an interesting story to work with, a doctor is forced into working for his brother, one of the recurring villains of the show, in this case Rupert Thorne (John Vernon) and you have this dilemma that plagues the doctor throughout the episode. But then you throw on Bruce Wayne being so invested because the doctor knew Bruce's father before his death. So you create two very interesting conflicts at hand and it leads to some of the more interesting and more emotional moments of the episode.
Right down to the very last scene, it's essentially dialogue, not a whole lot of action going on, and it's basically leading down to one thing Bruce wants to know:
I mean, the way Kevin Conroy says the phrase "tell me about my father", there is just something about that line reading that actually gets you a little teary eyed listening to that, that's how emotional that moment is. Perhaps it's because this episode is very heavy and dark all throughout and this ending sets up a more happier tone in which Bruce just wants to know more about his father from somebody who has come to know him during his life, it's such a powerful scene that makes you sad in a good way after what you had just gone through for 20 minutes, it ends on a positive note and a sign of hope.
Paging The Crime Doctor has more of the heavier and darker elements we've come to know and love for the series but it is the more emotional setpieces that carry this episode all the way through and make it stand out as one of the better episodes, this is definitely one worth checking out.