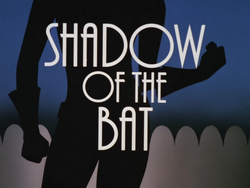 Shadow Of The Bat, Part 1 was first broadcasted on September 13, 1993 with a script by Brynne Stephens and directed by Frank Paur.
When Commissioner Gordon is framed for taking bribes from Rupert Thorne, his daughter Barbara pleads with Batman to show up at a rally being put on in the commissioner's behalf. But when Batman disappears after finding the person behind the frame-up, Barbara takes the law into her own hands as Batgirl.
Barbara makes her return to the series for the first time since Heart Of Steel but this is the first time she becomes Batgirl in the series.
Most of part one is used to establish the character of Barbara into the series and her trying to figure out how her dad got involved in him being framed for this and trying to convince Batman to help get her dad out, while she doesn't know he made a promise to her dad to keep her safe and out of the way while he's trying to investigate the case himself. This leads to Batman being kind of a jerk to Barbara but he's doing it to protect her and to save her father, she doesn't really know that's why he's pushing her aside in this matter.
It's not until the end of the episode when she gives the indication that she's going to become Batgirl and that leads into the end of part one.
Much of the first part is essentially just dialogue to establish Barbara Gordon as a new recurring character to the storyline and for that, there really is not that much that makes this one as action packed or as fun as you'd think it would be.
The voice work is perfectly fine, Melissa Gilbert once again gives a genuine performance as Barbara and she does manage to work really well off of the rest of the characters and the animation by Spectrum is really solid too.
Besides that, part 1 of Shadow Of The Bat is just kind of okay, it does a good job of giving Barbara her own story for her to develop her character but that's about it, this is looking like another one of those episodes where one part is better than the other so we will see what part 2 has to offer tomorrow.