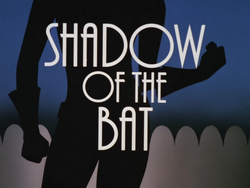 Shadow Of The Bat, Part 2 was first broadcasted on September 14, 1993 with a script by Brynne Stephens and directed by Frank Paur.
Robin discovers that Gil Mason is in league with the underworld and goes to investigate him. He encounters Batgirl along the way, and go their separate ways to stop Mason. They then meet again to learn that Gil is working with Two-Face to take out Gordon, and have Batman (as Matches Malone) captured.
This second part gives us more of Batgirl in action and showing how she not only works off with Batman and Robin but shows she can be a valuable asset to the team at hand.
There's a lot of very fun action sequences in this one, the animation is nicely done, and overall, this is a decent episode but neither parts of Shadow Of The Bat have anything truly exciting or engaging to put it up anymore than as a watch it once episode.